Remote Touch
Touch your lamp no matter
where you are! Send a virtual
hug while traveling, at the
office, or anytime you want
but not physically near your lamp.
❤️ sent to loved ones in the last hour!
(Actual number of touches sent between Friendship Lamps globally)
Download Now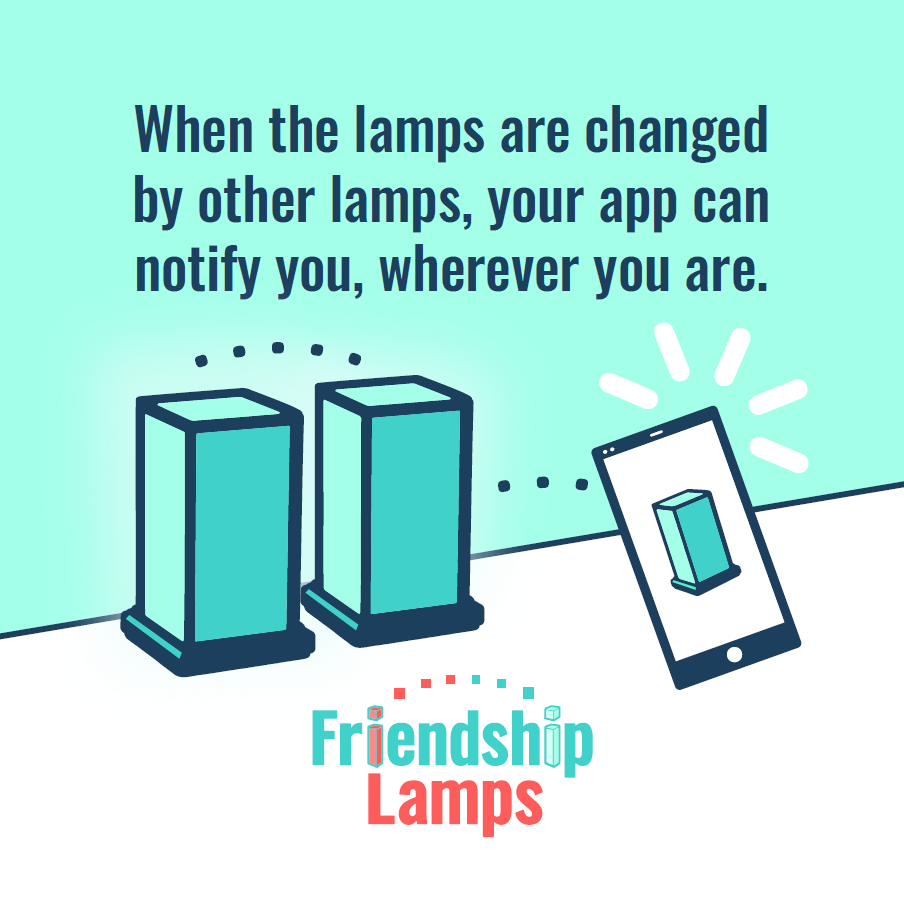 The Original Inventor of the Friendship Lamp©
Touch your Friendship Lamp and your loved one's lamp will light up, across the room or across the world. Whether your relationship is lighthearted or serious, new or well-worn, let them know you're thinking of them.
Shop Now
As Seen On






Classic Design Friendship Lamps
$89.25
Regular price
$105.00
Connect with those you love, no matter the distance.
Why Friendship Lamps©? 
Original Inventors of the Friendship Lamp© with two patents for our technology
Our Classic Design Friendship Lamps are handmade in Wichita, Kansas USA.
30-day money back guarantee 💰
The long distance Friendship Lamps consists of 256 programmable colors per lamp 
Unlimited Lamps can be linked to your group 👫
Touch any lamp in the group and they all will change 💡
Long distance touch lamps easily connects to Wi-Fi 
Connects no matter the distance, all over the world! 🌎
Best long distance relationship gifts for Christmas, holidays, birthdays, anniversaries and more 

🎁

 
Buy our best Friendship Lamps and stay connected for long distance relationships and friendships

💞

Mix and match Friendship Lamps. All of our Friendship Lamps work together so everyone can pick the style of lamp they love.
Classic Friendship Lamp©
The Classic Friendship Lamp©  is designed with Tiffany print acrylic that is lined with polished black acrylic. Weighted plastic base that is molded locally in Wichita, KS USA allowing for a sturdy structure. You can set a timer on the lamp illumination with default setting being 1.5 hours. You get to choose when the light will diminish in brightness in 30 minutes, 1.5 hours, 8 hours or 24 hours. All you need is Wi-Fi to easily connect.
Join the 200,000+ People Currently Using Our Friendship Lamps©
Touch your Friendship Lamp©  and your loved one that has the other lamp, their lamp lights the same color as yours. Connect as many lamps together as you wish.
Each person connects their lamp to their Wi-Fi, then touches the lamp whenever they are thinking of their loved ones. Perfect for parents, grandparents, brothers, sisters, or long-distance special someone. 
The sets of Friendship Lamps©  come already paired together and ready to connect to Wi-Fi. Use our Friendship Lamp© Connect App for quick and easy Wi-Fi set up. 
As Seen On
Friendship Lamps©  can be activated only by other Friendship Lamps© , so you must have at least 2 to connect. The single unit must be added to an existing group or can be purchased with another single lamp to create a new group.
Returns
To assure you are fully satisfied with your lamp, you have 30 days from the date you purchased it to return it. To be eligible for a return your item must be unused, in new condition, and in the ordinal packaging. You will also need to have the receipt or proof of purchase. 
Want to share Friendship Lamps with the world & get paid? 
Become an affiliate for Friendship Lamps. Help others stay connected no matter the distance with a product that you love so much. Shout it from the rooftop & the top of the mountains! Then you get paid for sharing it with the world. Click HERE to sign up!
Thousands of loved ones are currently connected
Explore our live map showing which lights are online! (Don't worry, we don't share any private info. Each lamp location is estimated and then randomized by ten miles)
Testimonials
MAURA r.
My children all live in different cities and they gave me this wonderful gift as a way to say hi to each other everyday. We just lost my Mom this year and now included my Dad (who lives long distance too) and what a joy to see his color come up.


Sandy C.
I purchased two lamps - one to be sent to my daughter and grandson, one for me - we live several states away from each other so we don't get to see each other often except by video chatting, which sometimes it's hard to find the time with two busy families!


Rebecca W.
So nice to know family thinking of each other even though on different schedules and hundreds of miles apart!


Walter Y.
Our family is spread between North Carolina, Minnesota, and Montana. We love playing color tag to let each know we are thinking about them.


Misty B.
Got these for my best and I. She lives in another state miles away. When I miss her I just touch it and hers lights up.


How Do Friendship Lamps Work?

First, Andrea connects the Friendship Lamp in her bedroom to her husband Dave's lamp. Dave is away, deployed in the military.



Thinking of Andrea, Dave taps his Friendship Lamp. Both lamps light Dave's color together!



Andrea sees her Friendship Lamp light. She knows Dave is thinking of her, and she responds. Both Friendship Lamps now light Andrea's color.


Not Quite Ready To Buy?